Process Mining in Practice | Avoiding disappointments and false expectations. Ensuring continuous process optimization.
15 Oct, 2020
3:00pm CEST
1 Stunde

DIGITAL SYMPOSIUM #1 | Process Mining in Practice

Together with our strategic partner Deloitte we will talk about the reality in Process Mining projects and discuss not only groundbreaking potentials but also typical showstoppers and actual successes. Experience MEHRWERK's tool experts together with the independent consultants of the market-leading Process Mining service provider Deloitte on a digital level. Get a versatile view on the topic of Process Mining!

What can you expect?
- Avoid typical showstoppers | What causes Process Mining projects to fail in practice? Our experts discuss how value creation can be achieved in individual projects.
- Evolution instead of revolution | Get to know a holistic approach for continuous process optimization.
- Experience technology live | How does digital process analysis feel?
- Q&A | Take the chance and ask your questions to our speakers Leo Figge, Manager Process Mining Delivery Deloitte and Constantin Wehmschulte, Head of Process Mining MEHRWERK.

We are looking forward to the launch of the digital format "Digital Symposium", which, together with our strategic partner, will provide you with very special insights into Process Mining practice.

Das virtuelle Symposium findet in englischer Sprache statt
Liebe/r Interessent/in,
für Unternehmen klingt es fast zu schön, um wahr zu sein: Die Technologie Process Mining ermöglicht nie dagewesene digitale Erkenntnisse, offenbart Prozessschwachstellen auf Knopfdruck und zeigt unmittelbar die Ursachen für Bottlenecks auf. Damit verkörpert Process Mining einen Garant für schnelle Prozessoptimierung. Bei diesem Versprechen ist eines naheliegend: eine herbe Enttäuschung, wenn die Realität im ersten Process-Mining-Projekt dann ganz anders aussieht. Doch das muss sie nicht!
Evolution statt Revolution
Gemeinsam mit unserem strategischen Partner Deloitte sprechen wir über die Realität in Process-Mining-Projekten und diskutieren neben bahnbrechenden Potenzialen auch typische Showstopper und tatsächliche Erfolge. Erleben Sie MEHRWERKs Tool-Experten gemeinsam mit den unabhängigen Beratern des marktführenden Process Mining Service-Anbieters Deloitte auf der digitalen Bühne. Erhalten Sie eine vielseitige Sicht auf das Thema Process Mining!
Wir freuen uns auf den Auftakt des digitalen Formats "Digital Symposium", mit dem wir Ihnen gemeinsam mit unserem strategischen Partner ganz besondere Einblicke in Process-Mining-Praxis ermöglichen können.
Klingt spannend? Dann freuen wir uns, Sie am 15. Oktober begrüßen zu dürfen. Bitte registrieren Sie sich vorab.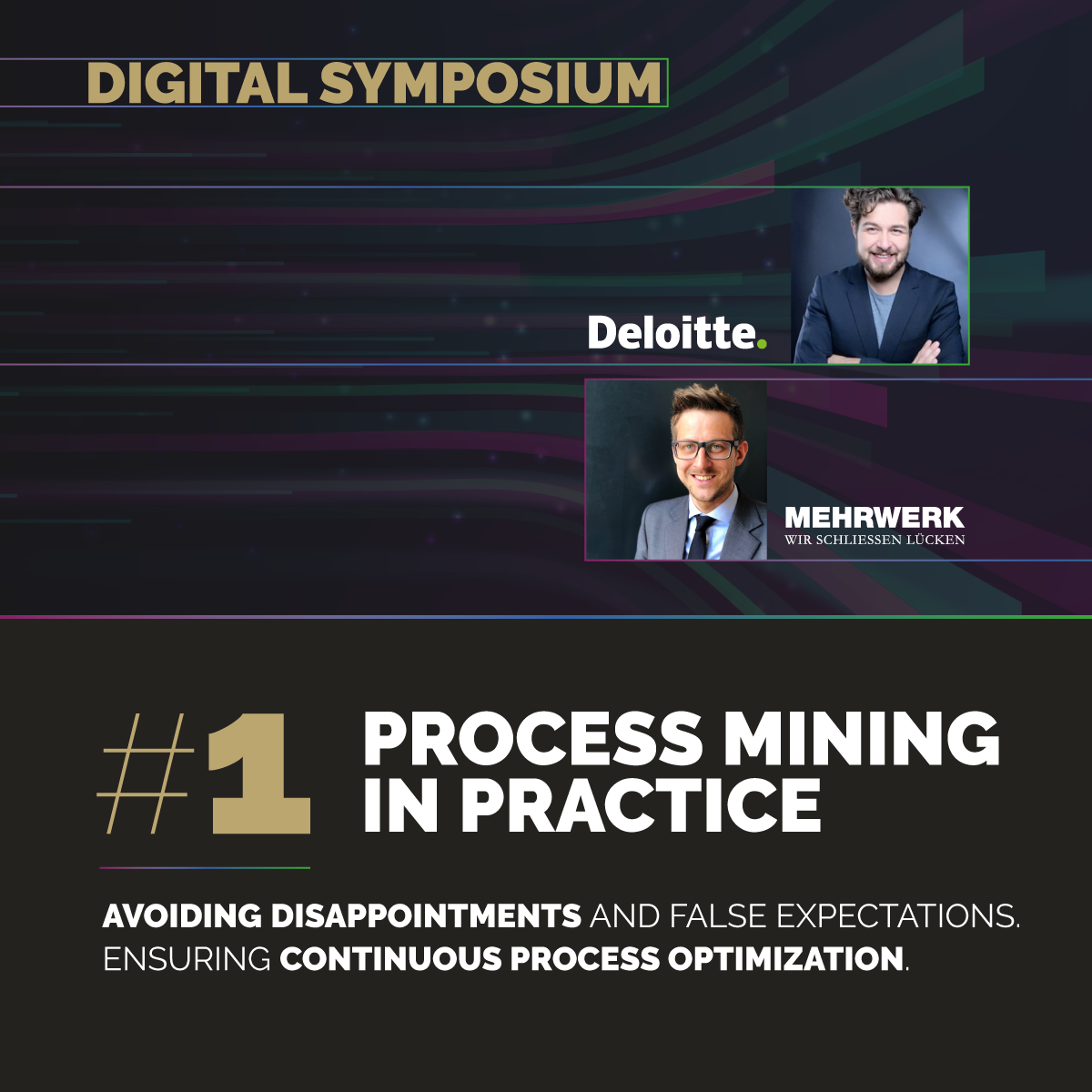 AGENDA
Avoiding typical showstoppers | Why do Process Mining projects fail in practice? Learn how medium-sized companies can overcome typical hurdles in Process Mining projects. Our experts will discuss how Value Creation can succeed in individual projects.
Evolution rather than revolution | The Center for Process Bionics of Deloitte combines a mindset for continuous improvement with cutting-edge technology. Sustainably improve the design and execution of your business processes, create seamless experiences for your customers and transform your efforts into a more tangible business value. Get to know this holistic approach.
Experience the technology live | How does Process Mining actually work? What does digital process analysis "feel" like? Follow an exciting live demo and experience Process Mining's powerful technology in an intriguing use case.
Q&A | Leo Figge, Manager Process Mining Delivery at Deloitte and Constantin Wehmschulte, Head of Process Mining at MEHRWERK, are eager to answer your questions in a final Q&A.